Contact Us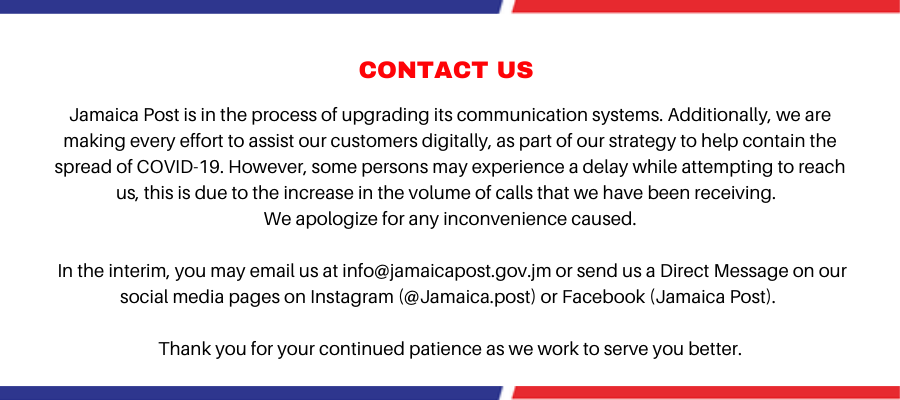 Need your questions and concerns answered? Ask our support team. We are here to help. We also welcome your feedback on our services and your customer experience.
 HEADQUARTERS
Address:
Central Sorting Office
6-10 South Camp Road
Kingston, Jamaica
Customer Service
876-224-4102 or 876-224-4184 or 876-224-4073 or 876-224-4136 or 876-224-3594 or 876-561-2921 or 876-432-8356
info@jamaicapost.gov.jm
Post Office Location
Please go to our Post Office Location page and select a parish to see a list of all Post Office and Agencies in that parish along with contact information.
Public Relations Unit
publicrelations@jamaicapost.gov.jm
Business Development Unit
876- 876-404-1400
businessdevelopmentunit@jamaicapost.gov.jm
Philatelic Store
philatelicunit@jamaicapost.gov.jm
Human Resource Management and Development
hrunit@jamaicapost.gov.jm
Instagram: Jamaica.Post
Twitter: JamaicaPost
Facebook: JamaicaPost
YouTube: Jamaica Post
OPENING HOURS:
Administrative Offices
Monday – Thursday: 8:30am – 5:00pm
Friday: 8:30 AM – 4:00 PM
 CUSTOMER SERVICE
Available:
Monday – Thursday: 8:30am – 5:00pm
Friday: 8:30am – 4pm
For queries about undelivered/missing mail items, please complete an Inquiry Form and return to us via the Postmaster at the nearest Post Office or email a scanned copy to info@jamaicapost.gov.jm
POST OFFICE OPENING HOURS
BUSINESS DAYS
OPENING HOURS
POST OFFICES
Monday – Friday
8:00am – 5:00pm
ALL Post Offices except Cross Roads P.O.
7:00am – 5:00pm
Cross Roads P.O.